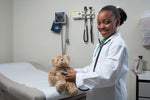 When it comes to seeing the type of responsibilities an ultrasound technician has, where do you begin to find for the answers? Either if you are thinking to start a career as a technician or simply curious about the information for an ultrasound and sonography, it is our hope that this article will provide you with what you exactly need.
A Description Of An Ultrasound Technician
A technician most often uses a machine called a transducer that maps a body's internals which is displayed as an imagine to help diagnose a patient. Ultrasound waves are sent to the body which in turn bounces back to the machine as echoes. As the machine measures the time it takes for the echoes to bounce back, this will allow a calculation to measure the distance travelled and conclude with an image on the screen.
The majority of the responsibility of a technician is to operate this machine. However, maintenance and explaining the images that are displayed on the machine are also included. Throughout the process of an ultrasound examination the sonographer will provide quality patient care, accurate reports taken on images, and maintaining patient records. In order for these requirements to be met by a technician it is crucial to have great administrative skills, communication, and organizational and teamwork abilities.
Job Protection And Demand
Across the Untied States there are countless amount of hospitals that are equipped with an ultrasound machine. The medical field has seen successful benefits in there practice by using these devices on their patients. As these devices continue to grow in the medical field this in turn requires qualified technicians to successfully operate on them. A technician can feel assured that as long as these machines are in high demand, so likewise will their career.
53,700 diagnostic medical sonographers are currently operating in the Untied States. According to the Untied States Bureau of Labor Statistics (BLS) the number of jobs that will be available in this field in the next 10 years is a remarkable 44%. The diagnostic medical sonography is one of the fastest growing career's in the whole American job market.
Due to the huge reduction for the cost of an ultrasound machine, physicians have jumped to these offers to equip their practices with these devices. An added bonus to these devices is that some machines have the ability to be portable and can run on a standard desktop with a specialized software. With the ability to have sonograms to aid their diagnoses coupled with excellent technological innovations it is no wonder why ultrasound technicians are such in high demand.
According to the BLS 23,400 ultrasound technician jobs will be open by 2020. This calls for qualified technicians that are specialized in this field and have up to date knowledge of the latest advancements in these devices. On going training in this career will be essential in order to understand the new technologies found in these devices such as 3D and 4D imaging. 
Specializations
Neurosonology: The evaluation of the brain and spinal cord.
Vascular Technology: The evaluation of blood flow in the abdominal and peripheral blood vessels.
Obstetrics/Gynecology: Evaluating the growth and the development of the fetal. In addition, diagnosing common gynecological problems.
Breast: The evaluation of abnormalities discovered in the screening or diagnostic mammography.
Ophthalmology: The assessment of the eye and its encircling muscles.
Abdominal: Examination of blood vessels, organs, and soft tissues located in the abdominal cavities. This also includes the kidneys, liver, pancreas, urinary tract, and the spleen.
Echocardiography: The evaluation of blood flow and anatomy of the heart with it's valves and blood vessels.
Work Atmosphere
On an average an ultrasound technician typically works around 40 hours a week. They may be called to come into work on short notice because of emergencies, which may include weekends. The majority of sonographers work in hospitals, but some technicians work in physician offices diagnostic laboratories. Technicians are constantly on their feet and at times pushing, lifting, or bending down is required to complete their task.